South Africa Special - Package 2
7 full days hunting / 3 Animals
| | |
| --- | --- |
| Tour Code: OSA2 | Length: 7 full days hunting |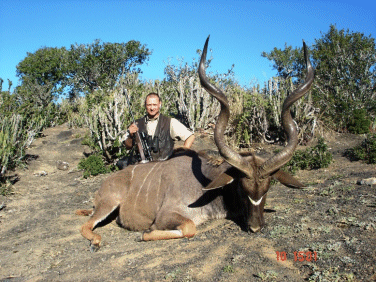 The weather has been mild with sufficient rains and good forage. We have an abundant supply of quality animals and invite you to share in our good fortune. We have put together some outstanding hunting packages for all budgets that include various species. All our hunts are strictly fair chase. These are not game farm or pen hunts. Rifles, bows, pistols and black powder welcome. Hunt is actually 9 days as the arrival day and departure day are included in the cost but do not count against your hunting time.
1 Eastern Cape Kudu or Blue Wildebeest,
1 Impala, and
1 Blesbuck
Additional animals can be taken at additional cost. Please see trophy list below.
COSTS

One Hunter - one PH
US$2,800 pp
Two hunters - one PH
US$2,550 pp
Non hunter-observer
Children under 18 stay free
US$ 150 per person per day
With us both your deposit and final payment are completely refundable (less a 10% admin fee of total package cost) at any time, for any reason, right up until the moment you are to step on the plane. We will not take your money if you cannot come hunt with us!
The above package includes the following
:
Accommodation
all meals & laundry
Local wines, beer, spirits, soft-drinks, cordials & teas/coffees
Round trip airport transfers
Services of a fully licensed, experienced Professional Hunter
Trackers, skinners & camp staff
Field preparation for trophys included
Transport during your safari in 4-wheel drive vehicle
1 Eastern Cape Kudu or Blue Wildebeest, 1 Impala and 1 Blesbuck
Additional animals available on request (additional cost)
The above package does not include the following:
International air (We have access to wholesale rates and will be happy to give a quote upon request)
Dipping & Packing of Trophies/Taxidermy/shipping
Airline/Air Charter costs if necessary
Firearm and ammunition rental. ($25.00 PER DAY. Highest quality rifles and optics)
Additional travel in Africa
The above package excludes any airfare, departure taxes, visa fees, or items of a personal nature.
NOTE ON ALL PACKAGES: There is no refund for any animals not taken while hunting on a package. All animals wounded but not recovered count against animals in package. We will make every effort to recover your trophy. We have some of the best trackers in Africa as well as some of the best tracking dogs you will ever see. Very few get away! Also please note that there is no charge for the day you arrive and the day you depart. For example for example a 7 day hunt is actually 9 days as we pick you up at the airport and return you with everything taken care of in-between. You only pay for the time you are in the field hunting. At all times we treat you like a member of our family.
Testemonials:
For the ladies perspective:
Hi,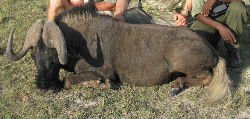 Well our long-awaited trip to South Africa has come to an end and it's back to reality. We want to thank you "again" for everything you did for us from the very beginning. Without your interaction, I don't think the trip would have turned out as well as it did from the transportation to the accommodations, to the overall trip itself. You made it so easy and it is very much appreciated.
Our trip to South Africa was everything and more than what we had hoped for. I truly had the best time of my life; I didn't even want to come home (other than missing my family)! I have never experienced anything quite like it, and definitely plan on going back. James and his family were the greatest, even though the time spent with them was minimal, I felt a true connection. The "client" is the business, but they certainly aren't treated as such. As a client, you end up feeling more like part of their family. The PH we had was the best!!! His name was Dave (never did find out his last name) and, let me tell you, he is one Hell of a PH and individual. His patience, persistence, determination and overall personality was tremendous! He made everything worthwhile! In fact, when we make arrangements for our next trip to South Africa, it will be with a request for him to be our PH.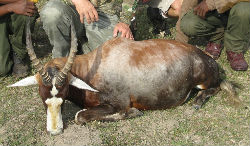 My brother shot all his animals and decided to also take a female Wildebeest. His toughest challenge though was the Kudu and he truly believed he had a "Kudu Curse". It took four long days of stalking (seeing plenty of females), etc., until he shot a beautiful bull. In fact, the awe of everything made me also want to take an animal and so I did that very thing. I had never shot a rifle nor hunted an animal before. I have nothing against hunting because I was born into a family of hunters and married a hunter and now my son also hunts. It's just that I thought I could never kill an animal. Well my way of thinking was changed once I was in South Africa. Just being there and experiencing the whole hunting scenario pulled me right in. I felt as though I also wanted to personally experience the hunt and so it began. Dave took me to the rifle range and I shot a 300 magnum four times at 100 yards. The first shot was to the left of the paper, the second shot I nipped the left edge of the paper, and the third was a little further in on the paper, but all in the same vicinity (to the left). Then Dave shot to see if the gun was shooting to the left and such was the case. So after Dave readjusted the scope, I shot the fourth time and was on the middle crease of the paper about two inches in from the left side and so the hunt was on. Dave felt as though the best animal for me to shoot due to my lack of experience would be a Blesbuck. The stalk was on and I am proud to say I shot and killed my very first animal at approximately 120 yards with a 300 magnum, one shot, a few steps, and down. I thought if I ever killed an animal I would cry with guilt. I did cry, but it was due to pride and happiness. Charlie was so proud of me that he came running down the hill and hugged me and we almost fell to the ground. So the next trip will be a Zebra for me, a lioness for my brother, and a few others for Sabo.
Well, I(we) want to thank you again for everything and you will be hearing from us in the very near future about making arrangements for our deep-sea fishing trip to Costa Rica next year and then after that our next trip to South Africa.
Talk to you later!
Sharon

Lodging photos - Click on a photo below to enlarge:





General information: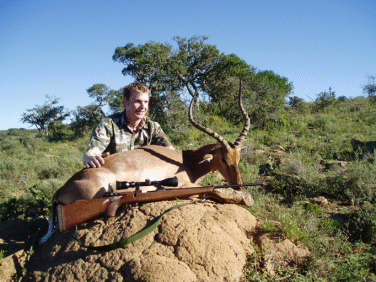 Hunting Africa is the lifelong dream of many sportsmen. We have designed our packages to bring Africa within reach of everyone. This hunt takes place in the Eastern Cape area of South Africa. This is a region of varied terrain from fertile valleys to steep mountains. It is home to large numbers of game. The Karoo is cattle and sheep country much like the American South West. Many of the farmers allow us to manage game on their property for extra income. Eighty percent of our hunting takes place on the open range with standard cattle and sheep fencing. The other twenty percent is on high fence ranches. Certain species can only be hunted year round in a high fence area, thus we need to use these properties as well.
All of our hunting is strictly fair chase. Our primary method is spot and stalk. We have blinds and tree stands as well and hunt with rifle, bow, pistol and black powder. We have farms designated bow only. We do not hunt from vehicles or in pens! Also we are not tied to one property. Our home farm of 5000 acres serves as a base from which we access over 250,000 acres of prime hunting land leased exclusively by us.
Trophy quality is guaranteed because of our trophy game management policies. Only mature animals are taken and a limited quota is set for each property. This allows a large number of animals on the land and also gives them time to mature into the quality trophies you seek. Our animals are all natural production and not bought at action and stocked. Our exclusive leases with landowners assures that we are the only ones taking the prime specimens off their properties. Seasons are reversed in South Africa from North America. May-August is winter and temperatures can get quite cold. Perfect hunting weather! Nov through March has warm to hot days followed by warm evenings. We usually hunt early and late this time of year with plenty of time to relax during the day.
On our hunts you will be accompanied by a certified professional hunter. This will be either one client and one PH or two clients and one PH depending on how you want it. We NEVER mix groups! Even if there is only one of you, you will have exclusive use of the lodges during your hunt and not be mixed with hunters that you do not know. We have four different lodges at our disposal and often move between them depending on what species you are hunting. As stated above we are not tied to one property like many other operations and can move to were the best specimens of the species you are hunting are located.
Our lodges vary from an authentic bush lodge with thatched roof cabins to a very comfortable former South African farm house with all the modern convinces. Africa is literally out the front door. All meals will be prepared by our staff and include many wild game dishes as well as homemade salads and deserts. You will not go hungry! We include all soft drinks, juices, water and tea and coffee as well as local beer and wines. We pride ourselves on offering not only a great hunt but also a complete experience including great food, good company and many additional features that others charge extra for.
Non-hunters are more than welcome! We encourage our clients to bring their families and offer a non hunting rate that reflects this. If your non hunter does not want to follow you in the field many optional tours can be arranged. We have many opportunities from camera safari to spas and golf. We will be glad to put together an exciting program of day trips from the lodge for the non hunter.
Additional animals can be taken on all of our packages according to the following trophy prices. All additional animals are to be paid for in South Africa in cash or travelers checks. As always all animals wounded but not recovered must be paid for in full.
Species

Male

Female

Baboon

US$150

US$150

Bontebok

US$1200

NA

Blesbuck

US$300

US$125

Bushbuck, Eastern Cape

US$400

NA

Bushbpig (chance )

US$200

US$200

Bushpig (bait or dogs)

US$500

US$500

Duiker, Blue

US$700

US$700

Duiker, Grey

US$250

NA

Fallow Deer

US$600

US$250

Grysbuck, Cape

US$600

NA

Gemsbuck

US$1100

US$1100

Hartebeest, Cape

US$800

NA

Impala

US$300

US$125

Jackal, Black Backed

US$100

US$100

Kudu, Eastern Cape

US$900

NA

Lynx (Caracal)

US$500

US$500

Nyala

US$2200

NA

Oribi

US$1200

NA

Ostrich

US$600

NA

Reedbuck, Mountain

US$300

NA

Steenbuck

US$250

NA

Springbuck, Common

US$300

NA

Springbuck, White

US$700

NA

Springbuck, Golden

US$1800

NA

Springbuck, Black

US$450

NA

Warthog

US$300

US$150

Wildebeest, Black

US$800

US$425

Wildebeest, Blue

US$750

US$425

Zebra, Burchells

US$1100

US$1100

Eland, Cape

US$2200

NA

Lechwe

US$2500

NA

Reedbuck, Common

US$750

NA

Rhebuck, Vaal

US$800

NA

Waterbuck

US$2200

NA

Cape Buffalo

POR

NA

White Rhino

POR

POR

White Rhino, Green Hunt